Blue Spirulina Overnight Oats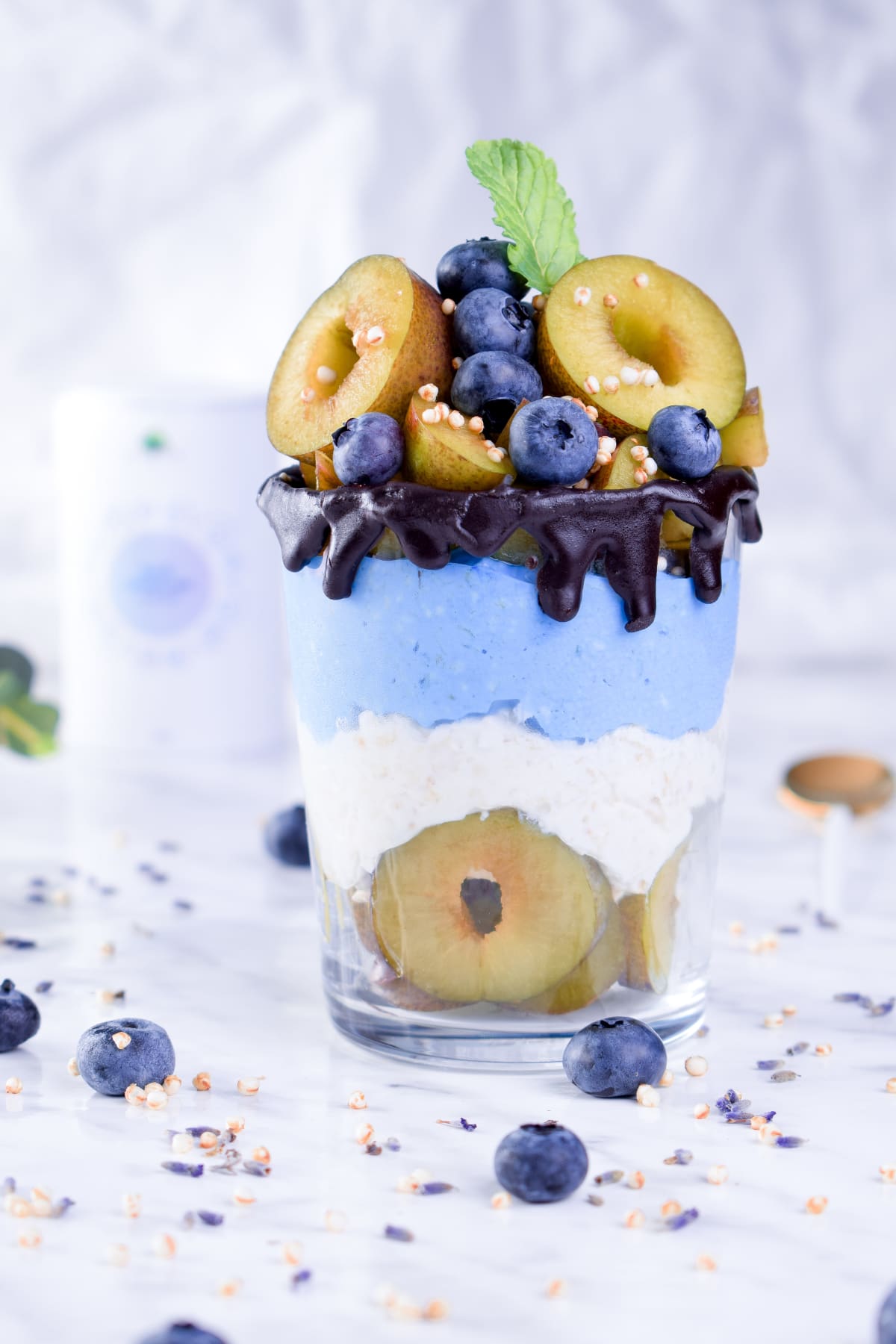 Have you ever try blue spirulina powder? Here are some healthy benefits (Unicorn Superfoods) for you body: - High in Nutrients - Removing heavy metals and toxins - Source of Protein - May Aid in Weight Loss - Boosts Energy and Performance - Can help improve digestion and bowel health
1 tbsp blue spirulina powder

1 cup coconut yogurt (or greek yogurt)

1 tbsp maple syrup (honey or agave syrup)

3/4 cup porridge oats

1/2 cup blueberries

6-7 plums

1/2 cup dark chocolate drops

1 tbsp coconut oil

2-3 mint leaves (optional)

1 tsp puffed quinoa (optional)
1
In a separate bowl combine oats with coconut yoghurt, blue spirulina powder and 1 tbsp maple syrup. Soak overnight.
2
In the next morning, melt the dark chocolate drops with coconut oil using a double boiler or microwave oven.
3
Dip each glass in the melted chocolate. Freeze for at least 10 min.
4
Divide the overnight oats into 2 different bowls.
5
First bowl is the white oatmeal. Keep the porridge as it is.
6
For the second bowl combine blue spirulina and overnight oatmeal.
7
Remove the pit of the plums and cut them into thin slices or dice.
8
Assemble the breakfast. Add some plums at the bottom of each glass or jar.
9
After that alternate the blue and white oatmeals.
10
Decorate with blueberries, plums, puffed quinoa and mint leaves..