Blueberry Oatmeal Breakfast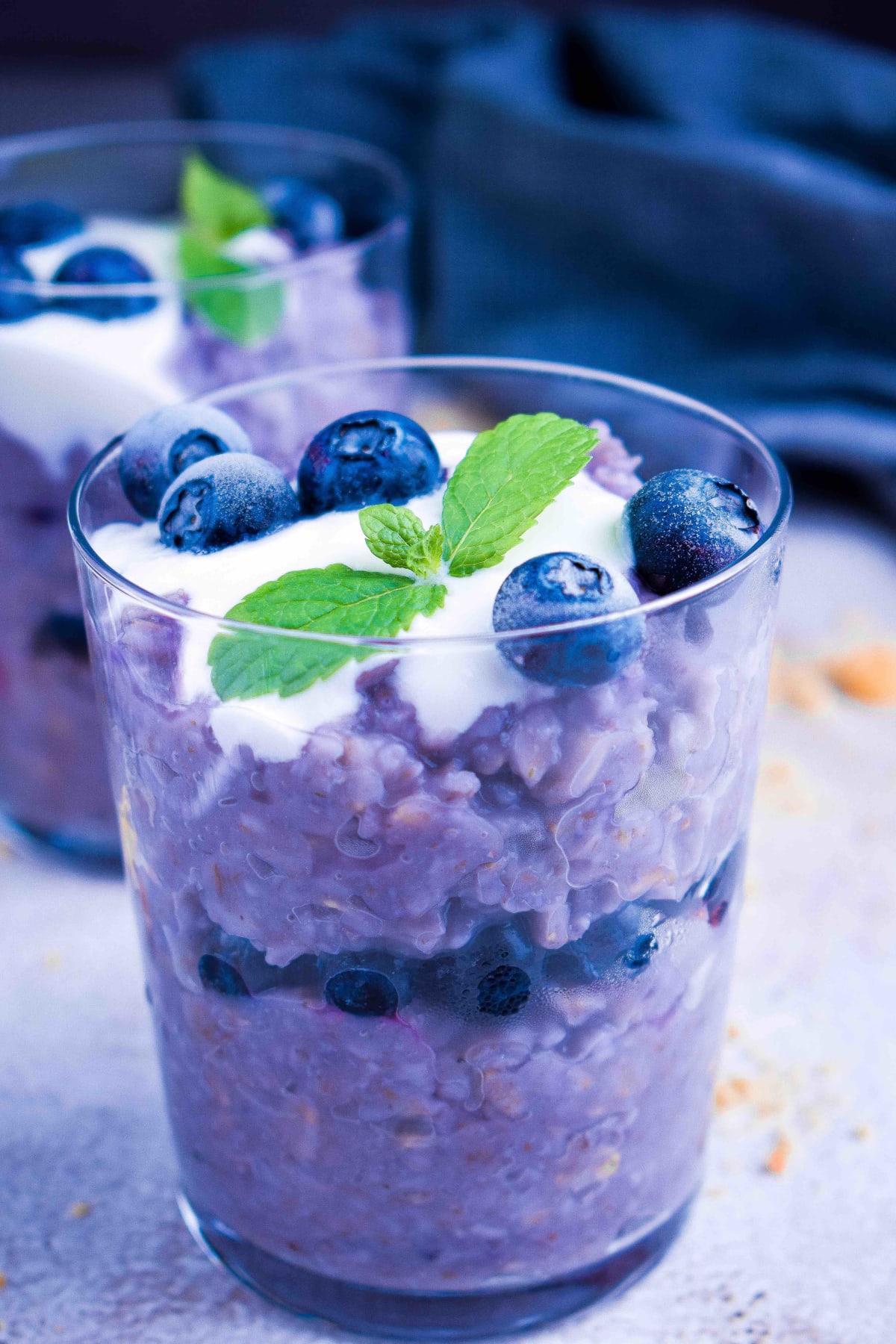 Good morning, friends! If you're looking for a quick and easy breakfast recipe that's both delicious and healthy, look no further than this blueberry oatmeal breakfast. Not only is it simple to make, but it's also packed with fiber and nutrients to help start your day on the right foot. This recipe is so customizable, you can combine oats with any fruit that you want! To make this blueberry oatmeal breakfast, you'll need a few key ingredients. First, you'll need old-fashioned oats. You can make it with quick or instant oats, basically any type of oats will work. These are the kind that take a few minutes to cook on the stovetop, and they're a great source of fiber and protein. You'll also need some fresh or frozen blueberries, which are rich in antioxidants and vitamins. Finally, you'll need a few simple ingredients, like vanilla, maple syrup (honey or agave syrup) to add some sweetness and flavor. So why is this blueberry oatmeal breakfast so good for you? For starters, oats are a great source of fiber, which can help keep you feeling full and satisfied throughout the morning. They're also low in calories and high in protein, making them a great choice for anyone trying to watch their weight. Blueberries, meanwhile, are loaded with antioxidants and other nutrients that can help boost your immune system and keep your body healthy. But the real reason to love this blueberry oatmeal breakfast is that it tastes amazing! The combination of sweet, tangy blueberries and hearty oats is a match made in breakfast heaven. Plus, the vanilla and maple syrup add just the right amount of sweetness to the dish, without adding any artificial flavors or sugars.This quick and easy recipe is great for breakfast but also you can enjoy it as a balanced afternoon snack. It's super healthy and very nutritious. So why not try making this blueberry oatmeal breakfast for yourself? It's a simple and healthy way to start your day off right, and it's sure to leave you feeling energized and ready to take on whatever the day brings.
1 cup porridge oats

2 cups of water (or milk)

1 tsp vanilla

1/2 cup blueberries + decoration

2 tbsp maple syrup (honey or agave syrup)
1
Turn on the stove at low to medium heat. In a casserole combine oats and water. Let it simmer until oats are cooked. Stir frequently.
2
During the cooking process add vanilla, blueberries and maple syrup. Stir.
3
Cool it down or refrigerate. Serve the blueberry oatmeal in a glass.
Tip:
Once your blueberry oats are ready, simply spoon some oats into a glass and top with a dollop of Greek yogurt (or coconut yogurt). You can also add some additional toppings, like sliced almonds, chia seeds, to make your breakfast even more satisfying.