Chickpeas Curry Chana Masala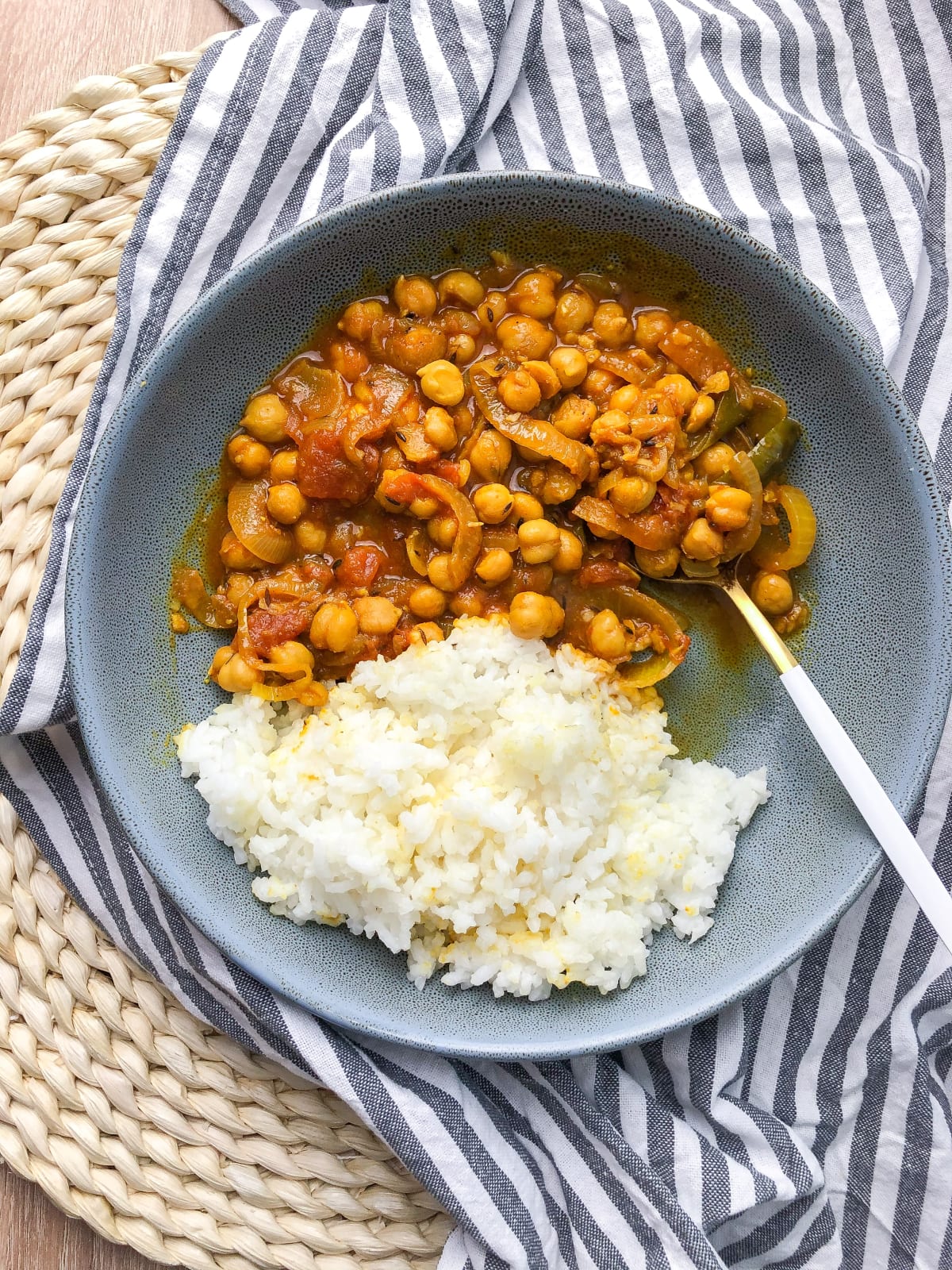 Today I share my vegan recipe for curry Chana Masala, also called Chole Masala in Punjabi state. This is my favorite curry I've ever taste so far. I cook curry at least once on weekdays, because it is very tasty and does not require much effort. If you do not have all the spices for the recipe, don't worry, put the ones you have. I usually add a cinnamon stick to the curry (depending on my mood). If you don't like hot and spicy food, just don't add chilis and hot peppers. 3 years go I started eating spicy food, but before that I didn't even touch it. At the moment, I don't sit at the table if it's not hot enough.
1 cup chickpeas, boiled

3 tbsp. olive oil

1 onion, chopped

1 tbsp. garlic, crushed

1-2 green chilis

1 tomato, diced

1 tbsp. tomato paste

3 dried red chilis

1 star anise, whole

1 tsp cumin seeds

1 tbsp cumin powder

2 cloves

1 cardamom

1 bay leaf

1 tsp masala powder or chole masala

salt

pepper
1
Heat olive oil in a pan over medium heat.
2
Add the bay leaf, star anise, cardamom, cloves, cumin seeds and dried red chilis. Stir.
3
Fry the spices lightly. Add the onion and green chilis.
4
Once it turns translucent, add the garlic. Fry it for 30 seconds.
5
Add the tomatoes, tomato paste and a cup of water.
6
Add salt and pepper according to your taste, cumin powder, masala powder and boiled chickpeas.
7
Cover the pot. Cook the chana masala for about 10 minutes on medium to low heat. Add more water if it sticks to the bottom of the pan.
Tip:
Serve it with butter naan, roti or plain rice