Citrus Fruit Pizza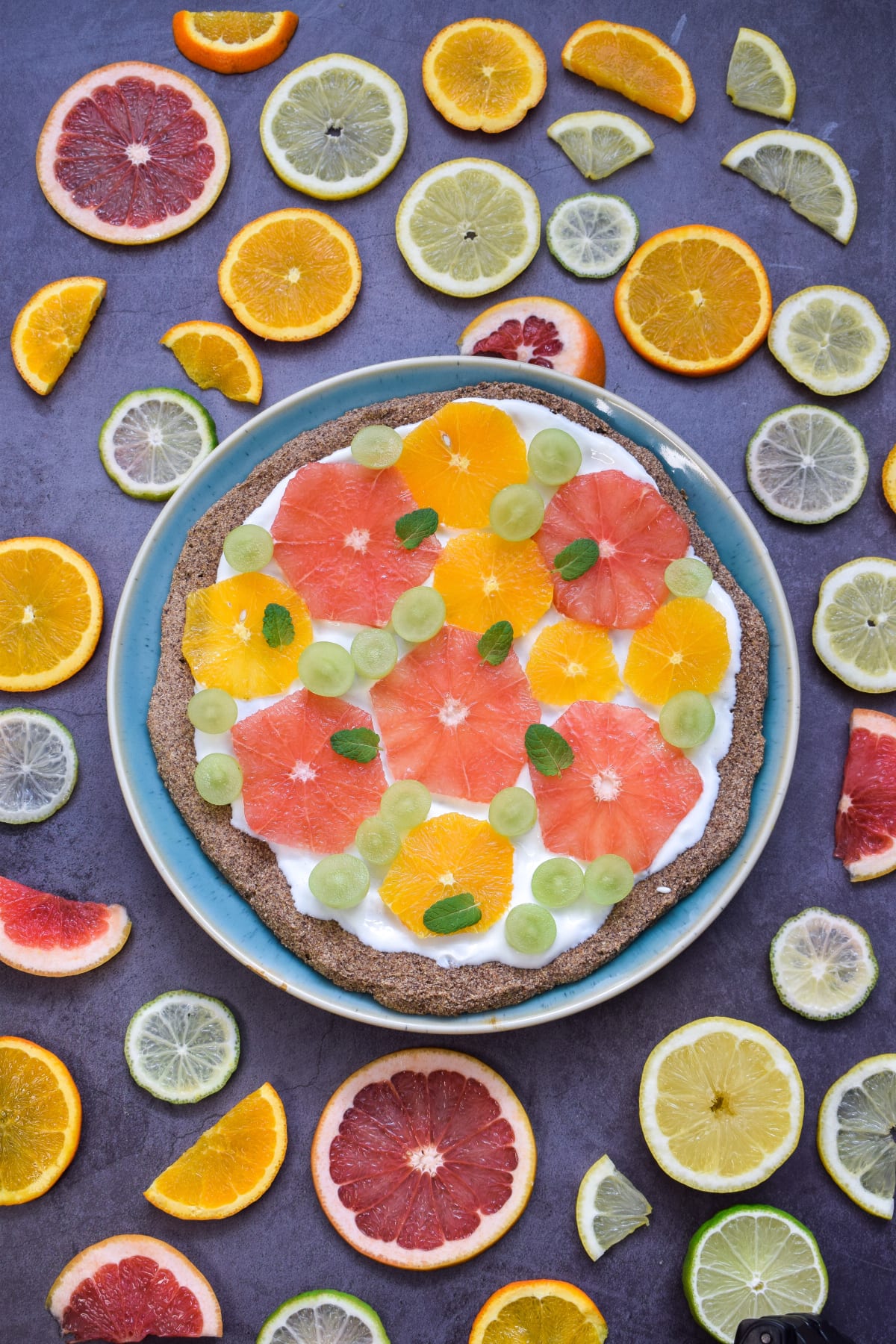 go friends! Today's recipe is an alternative version of pizza. The pizza crust, by itself, is low-carb, even KETO. In order for the pizza to be completely KETO, you must decorate only with berries. I chose citrus fruits and Greek yogurt. You can decorate it with chocolate spread, tahini, seed butter or peanut butter. There are many different options. If you want a vegan version, just omit the eggs and add coconut yogurt instead greek yogurt. It will work again because it has flax meal that keeps the mixture firm. I have made it many times this way too.
1 cup flaxseed flour

1 cup coconut flour

2 eggs

1 cup water (not cold)

1 tbsp coconut oil

1 tsp baking powder

Toppings:

1 tbsp erythritol (or sweetener of your choice)

1 grapefruit

1 orange

1/2 cup of grapes

fresh mint leaves

6 tbsp greek yogurt
1
For the pizza crust combine flaxseed flour, coconut flour, eggs, water, coconut oil and baking powder in a bowl to obtain a homogeneous mixture.
2
Spread the batter in a wide tray lined with baking paper.
4
In a bowl combine yogurt and erythritol. Stir.
5
Spread the yogurt on top of the pizza crust.
6
Cut the grapefruit and the orange into thin slices.
7
Decorate the pizza with citrus fruits and grapes.
8
Add mint leaves for extra flavour.
Note:
You can skip the eggs for vegan option. Just spread the batter evenly trying to make any gaps.
You can replace the greek yogurt with seed butter, nut butter or chocolate spread.