Healthy Vegan Unicorn Donuts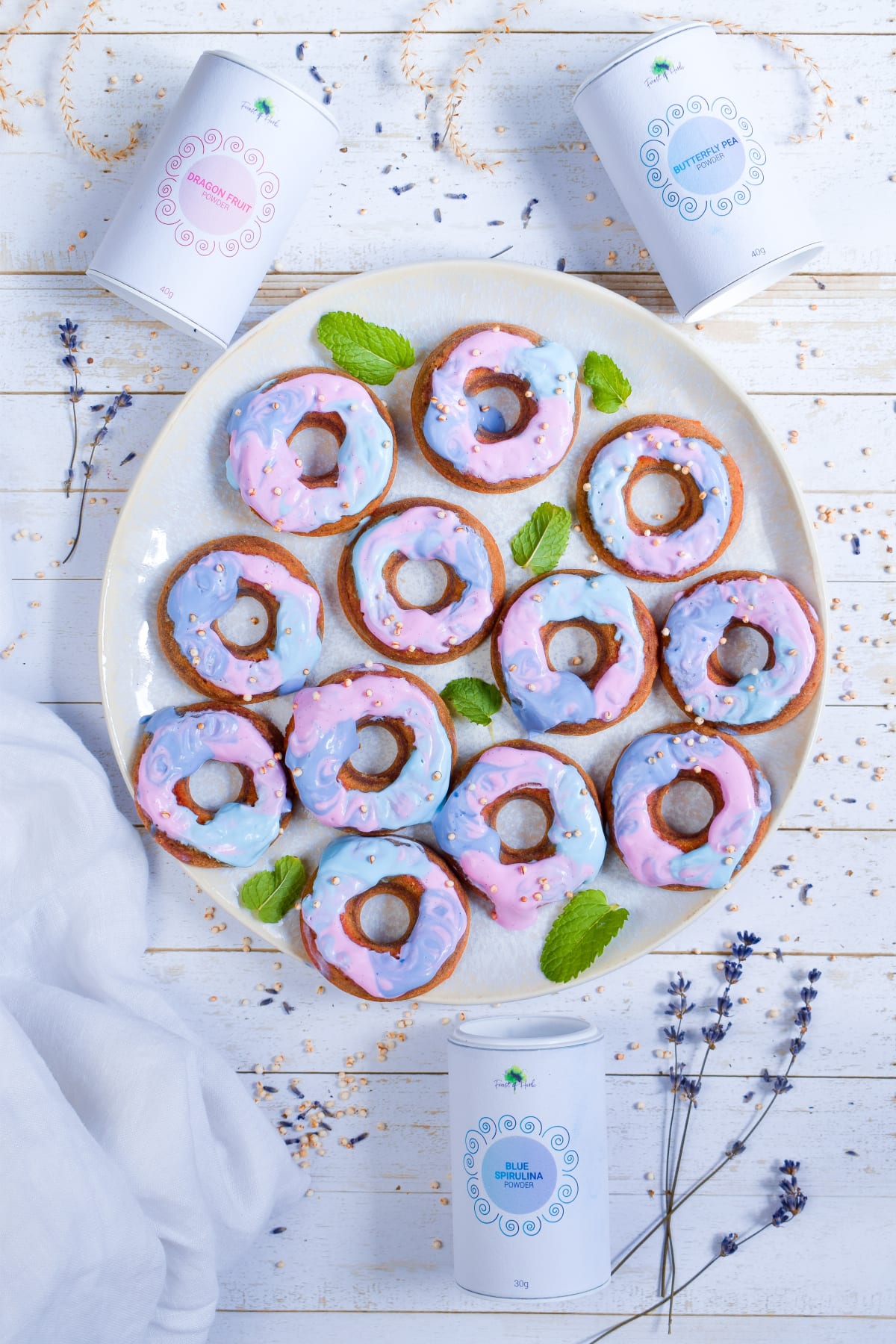 These donuts are so magical, aren't they? If you feel creative, please try this recipe. Make a surprise cooking these donuts and serve them to your children. I'm sure they are going to love these healthy donuts.
12 big medjool dates

1 1/3 cup coconut milk

1 1/2 cup oat flour (or grounded rolled oats)

2 tsp baking powder

1 tsp cinnamon

coconut oil for greasing

1 cup coconut yogurt

1 tbsp organic pink dragon fruit powder

1 tbsp organic blue spirulina powder

1 tbsp organic purple pea butterfly powder
1
Soak the dates for 15 minutes in warm water. Remove the skin and the pit. Mash them with a fork.
2
Preheat the oven at 160 C (320 F) degrees.
3
Add the coconut milk, oats, baking powder and cinnamon to the mashed dates. Stir.
4
Grease the donut tins. Pour an equal amount of the mixture into each donut nest.
5
Bake the donuts for about 20 minutes.
6
Pour the yogurt in 3 different cups. Prepare 3 different spoons.
7
In the first cup sprinkle with pink dragon fruit powder. In the second cup sprinkle with blue spirulina powder. In the third cup sprinkle with purple pea butterfly powder.
8
Spread the colourful yogurt using the spoons evenly on top of each donut.
9
Optional step: If you prefer drizzle with some melted dark chocolate or maple syrup, honey or agave syrup for extra sweetness.
Tip:
The consistency is more like baked oatmeal.