Keto Pumpkin Cheesecake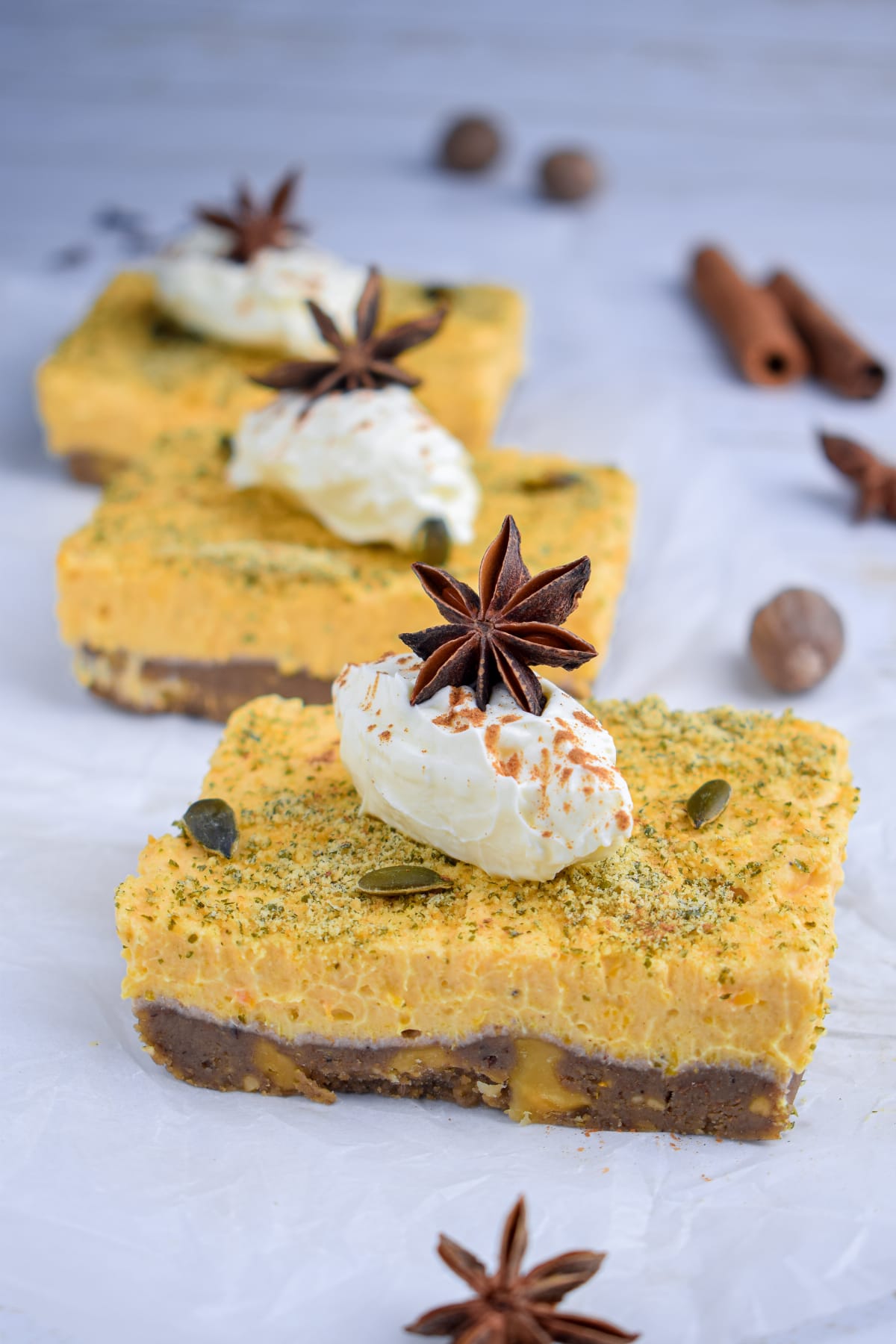 It's time for a keto pumpkin dessert. Surprisingly for me, the pumpkin is keto. I am very glad that another fruit, allowed in keto, can be added to our menu in autumn and winter.
Ingredients for the cream:

1 cup pumpkin puree

200g cream cheese, at room temperature

4 tbsp xylitol

1 tsp cinnamon

1/4 tsp ginger powder

1/4 tsp cloves powder

1/4 tsp nutmeg powder

1 tsp vanilla

Ingredients for the crust:

2/3 cup sunflower seeds flour

1 cup walnuts, raw

4 tbsp xylitol

60g butter, melted
1
Bake the walnuts at 160 C degrees in the oven for 10-15 minutes. Allow them to cool down.
2
Set aside 1/4 cup of the walnuts and roughly crush them. Ground the rest of the walnuts to obtain flour.
3
For the crust, combine the walnuts, sunflower seeds flour, xylitol and butter in a bowl and stir.
4
Spread the crust and press it firmly to the bottom of a 11 inches rectangular pan. Refrigerate while making the cream.
5
To make the pumpkin puree, cut and bake a butternut squash (without adding anything) in the oven at 250 C (480 F) degrees. Mash or blend part of it until you get a smooth puree.
6
Combine all the ingredients for the cream pumpkin puree, cream cheese, xylitol, vanilla and the pumpkin pie spices in a bowl and mix well.
7
Pour the cream over the crust and refrigerate for at least 2 hours.
Note:
I decorated the cheesecake with cream cheese, sprinkle of cinnamon and star anise.