Low Carb Granola (Vegan Keto)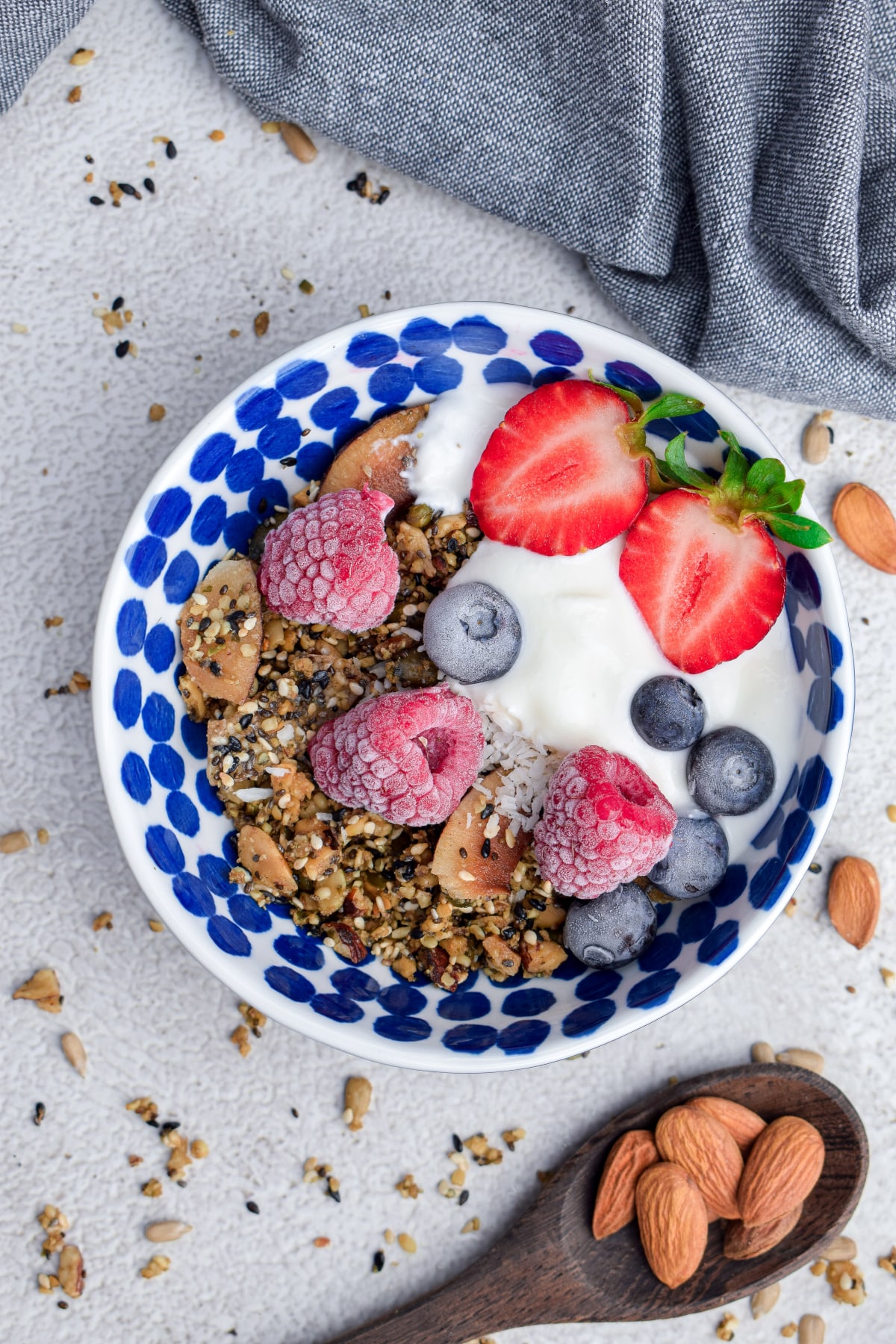 Basically, you have to combine all the nuts and seeds from your pantry in a bowl. The recipe is so easy to make and very delicious. The ingredients and the quantities can vary. You can add your favourite nuts and seeds. Make sure that you don't use raisins or dried fruits because they are not keto/low carb. Serve the granola with forest fruits and berries in order to keep the recipe keto/low carb. I like to serve it with yogurt but you can definitely pour milk on top of the granola.
1/4 cup (30 g) raw almonds

1/4 cup (30 g) raw pumpkin seeds

1/4 cup (30 g) raw sunflower seeds

1/4 cup (30 g) raw cashews

1/4 cup (30 g) raw walnuts

1/4 cup (30 g) raw hazelnuts

raw brazil nuts

coconut chips

hemp seeds

chia seeds

white sesame seeds

black sesame seeds

1 tsp cinnamon

1 tbsp coconut oil, melted

1 tsp vanilla

2 tbsp erythritol (or sweetener of your choice)
1
Combine all the ingredients in a bowl (without coconut chips).
2
Distribute them into a tray lined with baking paper.
3
Bake the granola at 160 C (320F) degrees for about 15 minutes.
4
Let it cool down completely. Store it in a container for up to 7 days.
Note:
If desired, decorate with raspberries, blueberries, strawberries, desiccated coconut flakes.
Serve the granola with greek yogurt or coconut yogurt as vegan alternative.