Peanut Butter Cheesecake Bars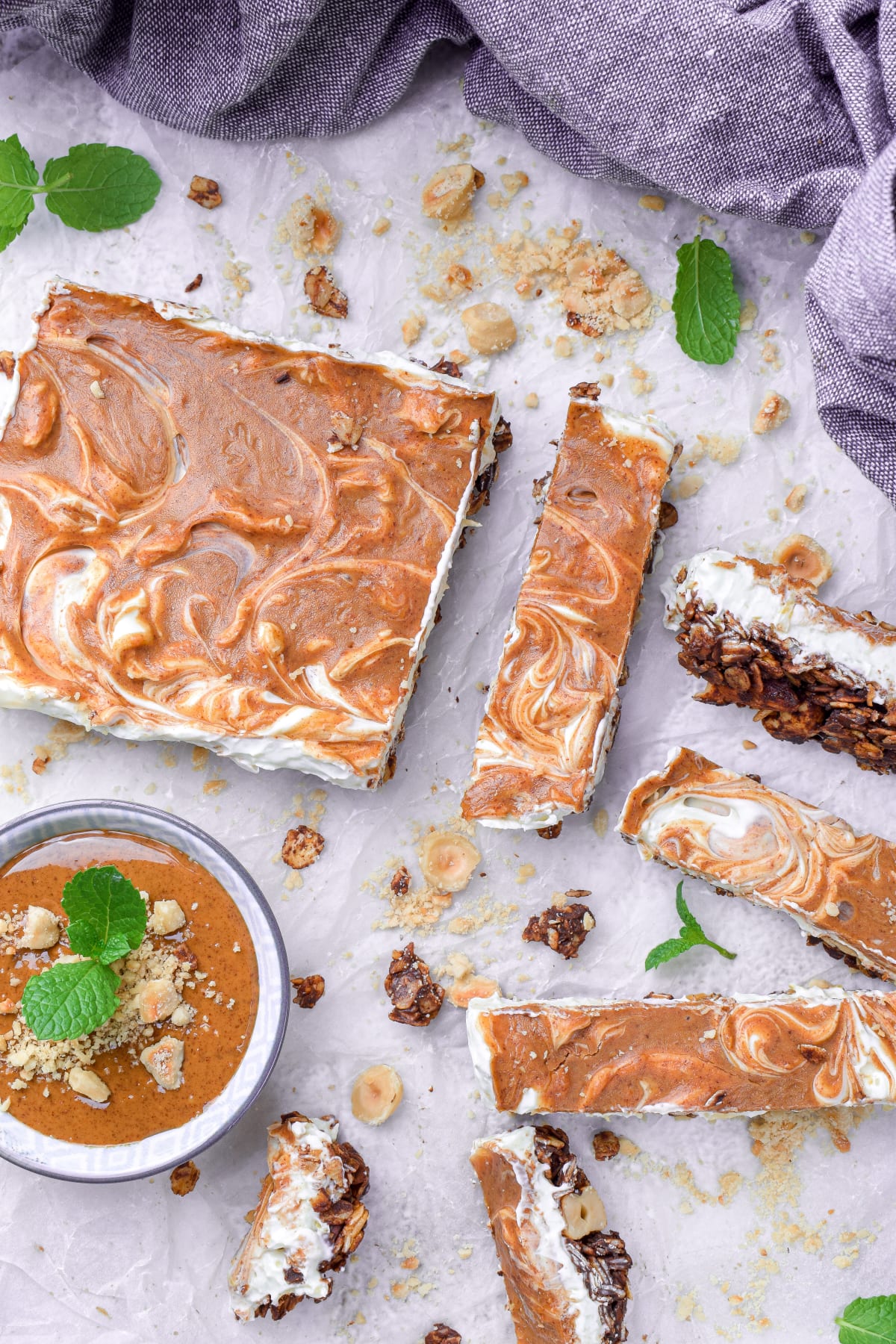 Hello friends! As the creator of this recipe I can say that it is reminiscent of the taste of a Snickers bar. It is the perfect combination of creamy, sweet, and nutty. The chocolate and granola base is rich and adds a nice crunch to the texture, while the peanut butter and cream cheese layers are decadent and creamy. If you are a fan of peanut butter and cheesecake, then this recipe is for you! This peanut butter cheesecake bar recipe is an easy and delicious dessert that will have your taste buds dancing with delight. The best part is, you don't need to be a master chef to make it. These Peanut Butter Cheesecake Bars are a game-changer for dessert lovers, especially those who can't get enough of the rich, nutty flavor of peanut butter. This easy-to-make recipe is perfect for any occasion, and you don't need any special skills or equipment to pull it off. You'll only need a few ingredients, most of which you probably already have in your pantry. Peanut butter and cheesecake are two irresistible treats on their own, so when you combine them into one dessert, it's no surprise that the result is an absolute masterpiece. The recipe calls for just a few ingredients, making it easy to whip up whenever you're craving something sweet. The homemade granola adds a nice crunch to the base layer, while the peanut butter and cream cheese layers create a smooth and creamy texture that melts in your mouth. One tip for making these bars is to use a high-quality dark chocolate with stevia, as it adds a rich and decadent flavor without the added refined sugar. You can also experiment with different flavors of granola to give the bars a unique twist. In conclusion, this peanut butter cheesecake bar recipe is a must-try for any dessert lover. With just a few simple ingredients and easy steps, you can create a delicious and impressive dessert that's sure to impress your family and friends. So what are you waiting for? Get baking and indulge in these heavenly treats!
100 g dark chocolate with stevia

2 tbsp coconut oil

400 g cream cheese, room temperature

2 tbsp erythritol powder

1 lemon, zested

1 tsp vanilla drops

1/2 cup peanut butter
1
For the base layer, melt the chocolate with 1 tbsp coconut oil using a double boiler.
2
Mix it with the granola and cover the bottom of a rectangular tray lined with baking paper. Refrigerate for a few hours until firm.
3
For the cheese layer, combine the cream cheese with the erythritol, vanilla and lemon zest. Stir until smooth.
4
For the peanut layer, melt the peanut butter with 1 tbsp coconut oil using a double boiler.
5
On top of the base layer, pour the cream layer. Refrigerate for 10-15 minutes.
6
Pour the peanut layer on the slightly cooled cream cheese layer.
7
Using a skewer or toothpick, make waves with swirling motions, trying to gently mix the peanut layer with the cheese cream layer.
8
Cut the peanut butter cheesecake into small bars.
Tip:
Refrigerate the peanut butter cheesecake bars for at least one night before serving them chilled.