Vegan Fig Tart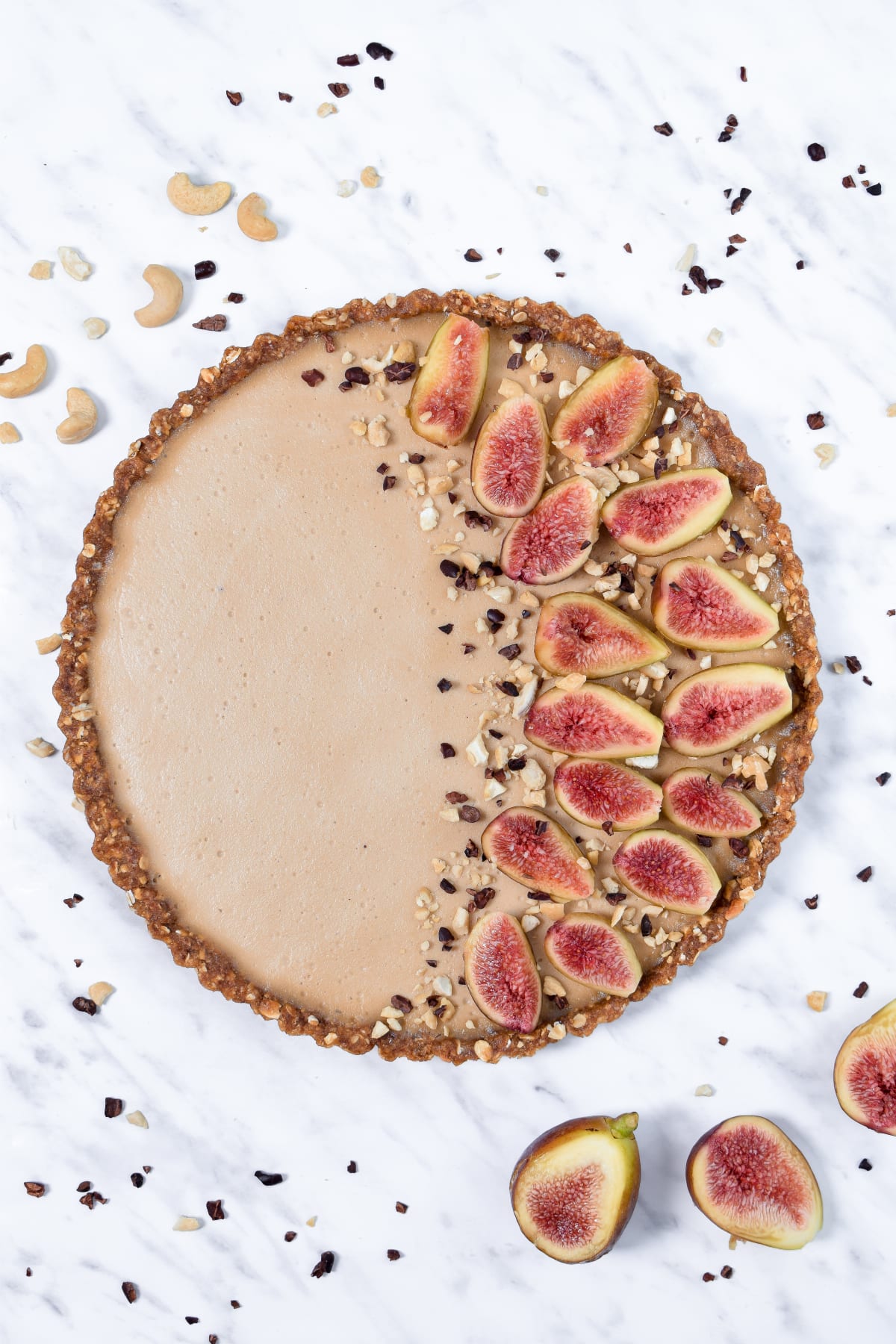 Autumn is here! This tart is perfect for lazy days sitting on the couch and reading a book with a cup of tea.
Ingredients for the crust:

1/2 cup raw cashews

1 cup rolled oats

250g date paste (or mashed dates)

3 tbsp date syrup (optional)

1 tsp vanilla

3 tbsp coconut oil

Ingredients for the cream:

2/3 cup raw cashews

1 can of coconut whipping cream

3 tbsp date syrup

1 tsp vanilla

3 tsp agar agar
1
For the crust, roast the cashews and rolled oats at 160 C (320 F) in the oven for 10-15 min.
2
Blend cashews, oats, date paste, date syrup, vanilla and 2 tbsp coconut oil in a powerful blender or food processor.
Note:
My blender is not powerful so I blend the oats and cashew separately from the date paste. Then I use my hands to make a "dough" texture.
Tip:
If you like the crunchiness from cashews so don't blend it for longer.
3
Grease the tart pan with 1 tbsp coconut oil. Spread the crust and press it to the bottom of the pan. Refrigerate while making the cream.
4
For the cream, soak the cashews in cold water overnight or boil in hot water for 20 min.
5
Combine coconut cream with cashews, vanilla and date spread. Blend everything until smooth cream.
6
Mix agar agar and 1/2 cup of cold water in a saucepan. Place it on the stove and turn on the heat.
7
Stir until the agar agar is completely dissolved. Bring it to boil. Reduce the heat and let it simmer for 5 minutes. Stir frequently.
8
Combine the smooth cream with agar agar. Pour on top of the tart crust and refrigerate for at least 2 hours.
Note:
Decorate with figs, grapes, homemade chocolates and cacao nibs.