Vegan Pumpkin Tart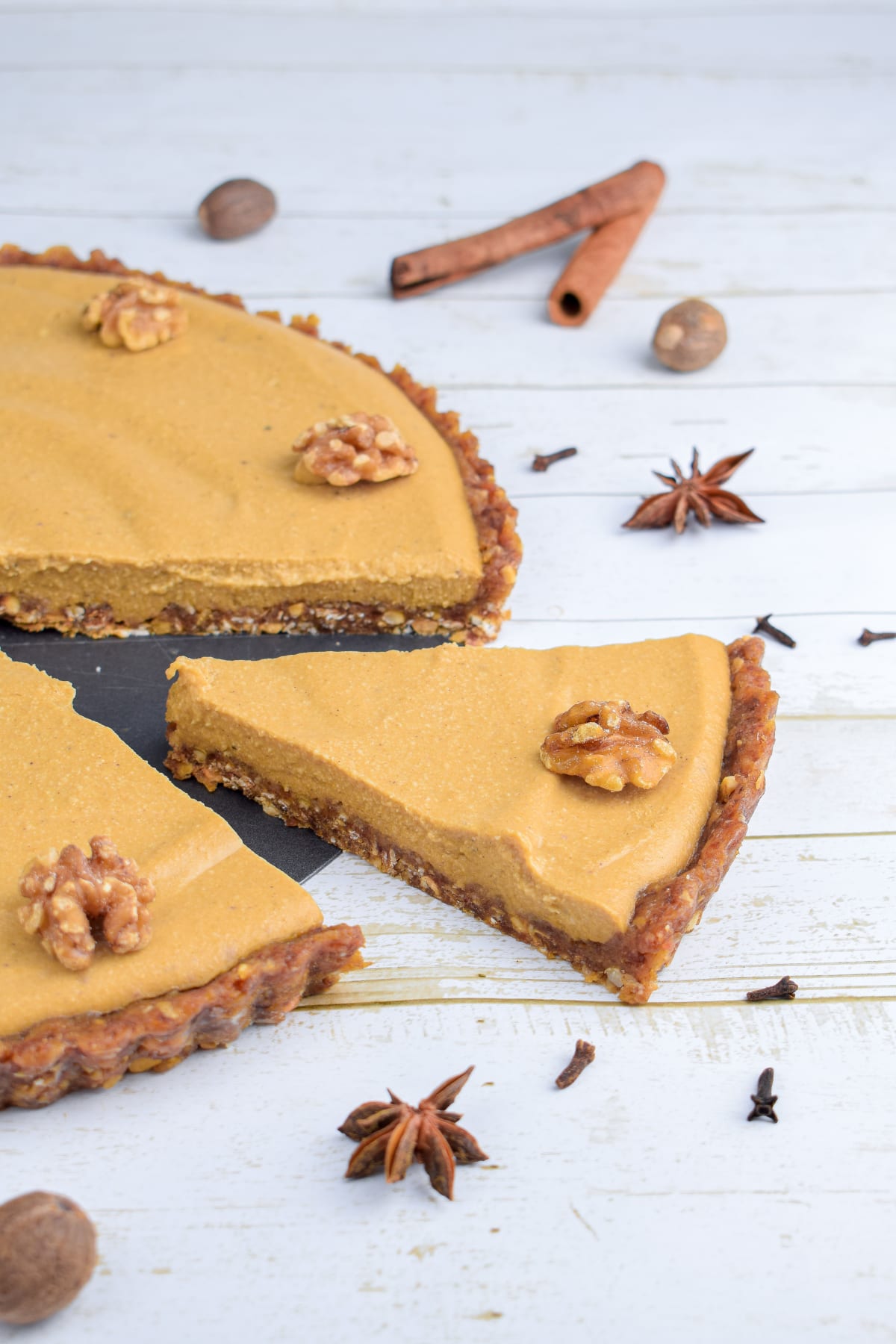 It may turn out that pumpkin is the most commonly used fruit in all recipes during October and November. Well, you must try this recipe as well. This vegan pumpkin tart is so flavourful and delicious.
Ingredients for the crust:

1/2 cup raw cashews

1 cup rolled oats

250g date paste (or mashed dates)

1 tsp vanilla

3 tbsp coconut oil

1 tbsp date syrup

Ingredients for the cream:

2/3 cup raw cashews

1/2 can of coconut mylk

1/2 cup pumpkin puree

3 tbsp date syrup

3 tsp agar agar

1 tsp vanilla

1 tsp cinnamon

1/4 tsp ginger powder

1/4 tsp cloves powder

1/4 tsp nutmeg powder
1
Bake the cashews, oats, date syrup and 2 tbsp. coconut oil at 160 C (320 F) in the oven for 10-15 min. Set it aside and let it cool down.
2
Combine the cashews, oats, date paste and vanilla. Knead something like a dough by hand (without using any kitchen supplies).
3
Grease the tart pan with 1 tbsp coconut oil. Spread the crust and press it to the bottom of the pan. Refrigerate while making the cream.
4
For the cream, soak the cashews in cold water overnight or boil in hot water for 20 min.
5
Cut and bake a butternut squash (without adding anything) in the oven at 250 C (480 F) degrees. Mash part of it until you get a smooth puree.
6
Combine coconut mylk, soaked cashews, pumpkin puree, vanilla and date spread. Blend everything until smooth cream is obtained.
7
Mix agar agar and 1/2 cup of cold water in a saucepan. Place it on the stove and turn on the heat.
8
Stir until the agar agar is completely dissolved. Bring it to boil. Reduce the heat and let it simmer for 5 minutes. Stir frequently.
9
Combine the smooth cream with agar agar. Pour on top of the tart crust and refrigerate for at least 2 hours.