Vegan Red Kidney Bean Brownies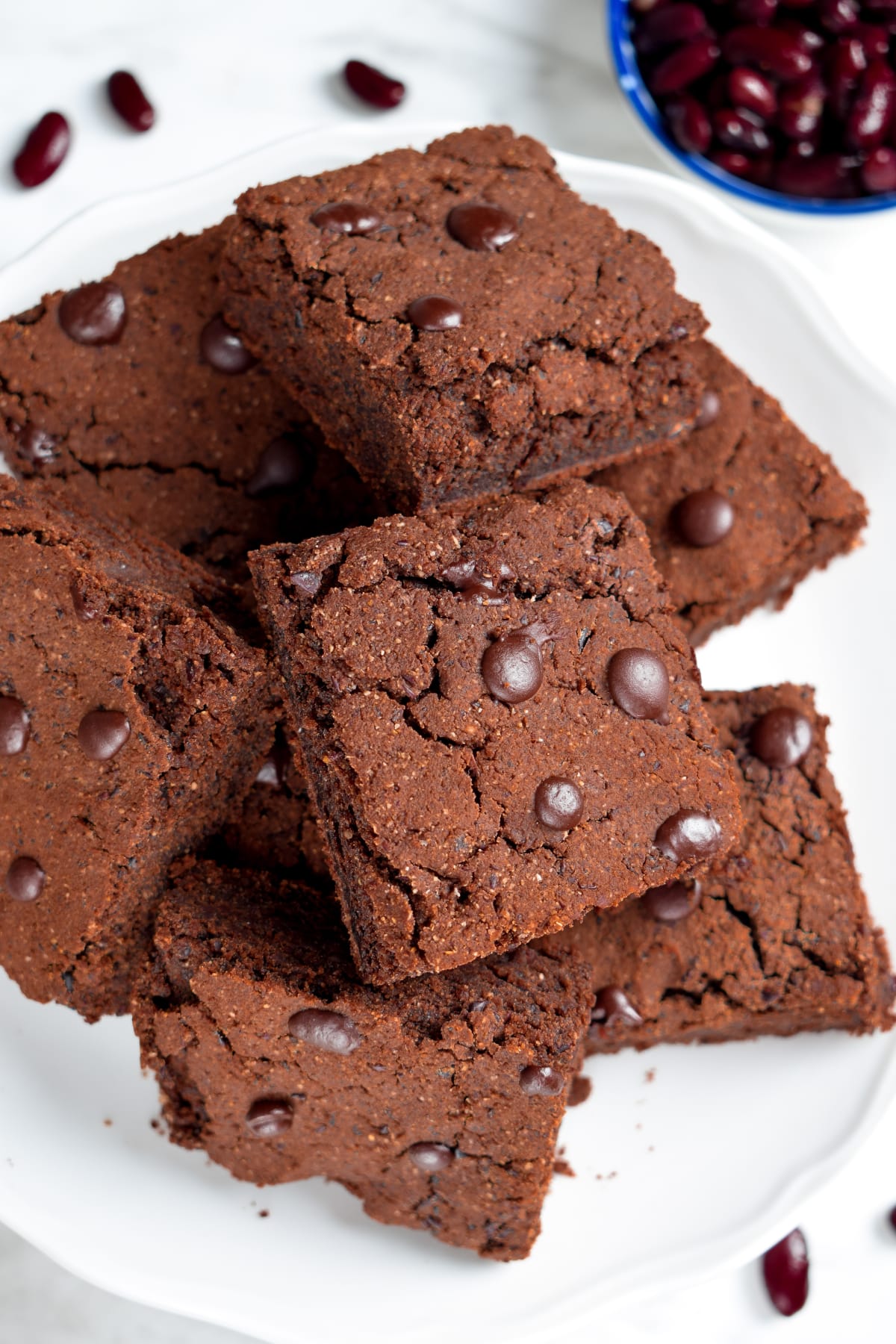 Hello, foodies! If you're looking for a quick and easy brownies recipe that's both delicious and healthy, look no further than this Vegan Red Kidney Bean Brownies. Vegan Red Kidney Bean Brownies are a guilt-free indulgence that will satisfy your sweet tooth without compromising your health or your values. Traditional brownies are usually loaded with butter, eggs, all purpose flour and sugar, making them high in saturated fat, cholesterol, and calories. Vegan Red Kidney Bean Brownies, on the other hand, are made with wholesome ingredients that are kind to your body and the planet. They contain no animal products, no refined sugar, and no artificial additives. Instead, they are rich in fiber, protein, vitamins, and minerals, thanks to their main ingredient: red kidney beans. Red kidney beans are a nutritional powerhouse that boasts a wide range of health benefits. They are an excellent source of plant-based protein, iron, folate, potassium, and magnesium, all of which are essential for a healthy diet. They also contain antioxidants that protect your cells from damage and lower your risk of chronic diseases, such as cancer, heart disease, and diabetes. Red kidney beans are a highly nutritious legume that offer a wide range of health benefits. Here are some of the benefits of including red kidney beans in your diet:
Rich in Fiber: Red kidney beans are an excellent source of dietary fiber, which promotes digestive health, helps to reduce cholesterol levels, and can help to control blood sugar levels.
High in Protein: Red kidney beans are a good source of plant-based protein, which is essential for building and repairing muscles, bones, and other tissues in the body.
Lowers the Risk of Heart Disease: Studies have shown that consuming red kidney beans can help to reduce the risk of heart disease by lowering blood pressure, reducing cholesterol levels, and improving blood sugar control.
Helps with Weight Management: Red kidney beans are low in fat and calories but high in protein and fiber, making them a great food to include in a weight management plan.
Rich in Essential Nutrients: Red kidney beans are rich in essential nutrients such as folate, iron, and potassium, which are essential for maintaining good health.
Promotes Bone Health: Red kidney beans are a good source of calcium and magnesium, which are essential for maintaining strong bones and preventing osteoporosis.
Supports Brain Function: Red kidney beans are rich in thiamin and vitamin B6, which are important for brain function and cognitive health.
Overall, red kidney beans are a nutritious and delicious addition to any diet. They can be used in a variety of dishes, including soups, stews, salads, and desserts, making them a versatile ingredient that can be enjoyed in many different ways. But what about the taste? You may be wondering if vegan red kidney beans brownies can compete with the real deal. The answer is a resounding yes! These brownies are fudgy, moist, and chocolatey, just like the classic version. They are sweetened with natural sweeteners, such as date sugar but if you don't find it, you can replace it with maple syrup or coconut sugar, and flavored with cocoa powder, vanilla extract, and a pinch of salt. You can also add some nuts, dried fruits, or chocolate chips for extra texture and flavor. Making vegan red kidney beans brownies is easy and fun, even if you are not a skilled baker. All you need is a food processor or blender, some simple ingredients, and a bit of creativity. You can adjust the recipe to your taste and dietary needs, such as gluten-free, nut-free, or low-fat. You can also make a big batch and freeze them for later, so you can enjoy them anytime you want. So, if you want to indulge in a delicious treat that is good for you and the planet, try making vegan red kidney beans brownies today. You won't regret it!
3 cups red kidney beans, boiled

3/4 cup date sugar

1/4 cup cocoa powder

1/2 cup coconut oil, melted

1 tsp baking powder

2 tsp vanilla

pinch of salt
1
Puree red beans with a blender or food processor.
2
Combine all the ingredients in a bowl. Stir until smooth texture is obtained.
3
Distribute the brownie batter in a baking tray lined with parchment paper. Grease the paper with a little bit of coconut oil.
4
Bake in a preheated oven at 180 C (320 F) with a fan on both sides for 20 minutes.
5
When it's done, remove from the pan and cool down completely before serving.
Tip:
If you do not have gluten-free instant oats, you can grind gluten-free rolled oats into fine flour.
Note:
Optionally, add chocolate drops or hazelnuts for decoration.