Vegan Red Lentil Roll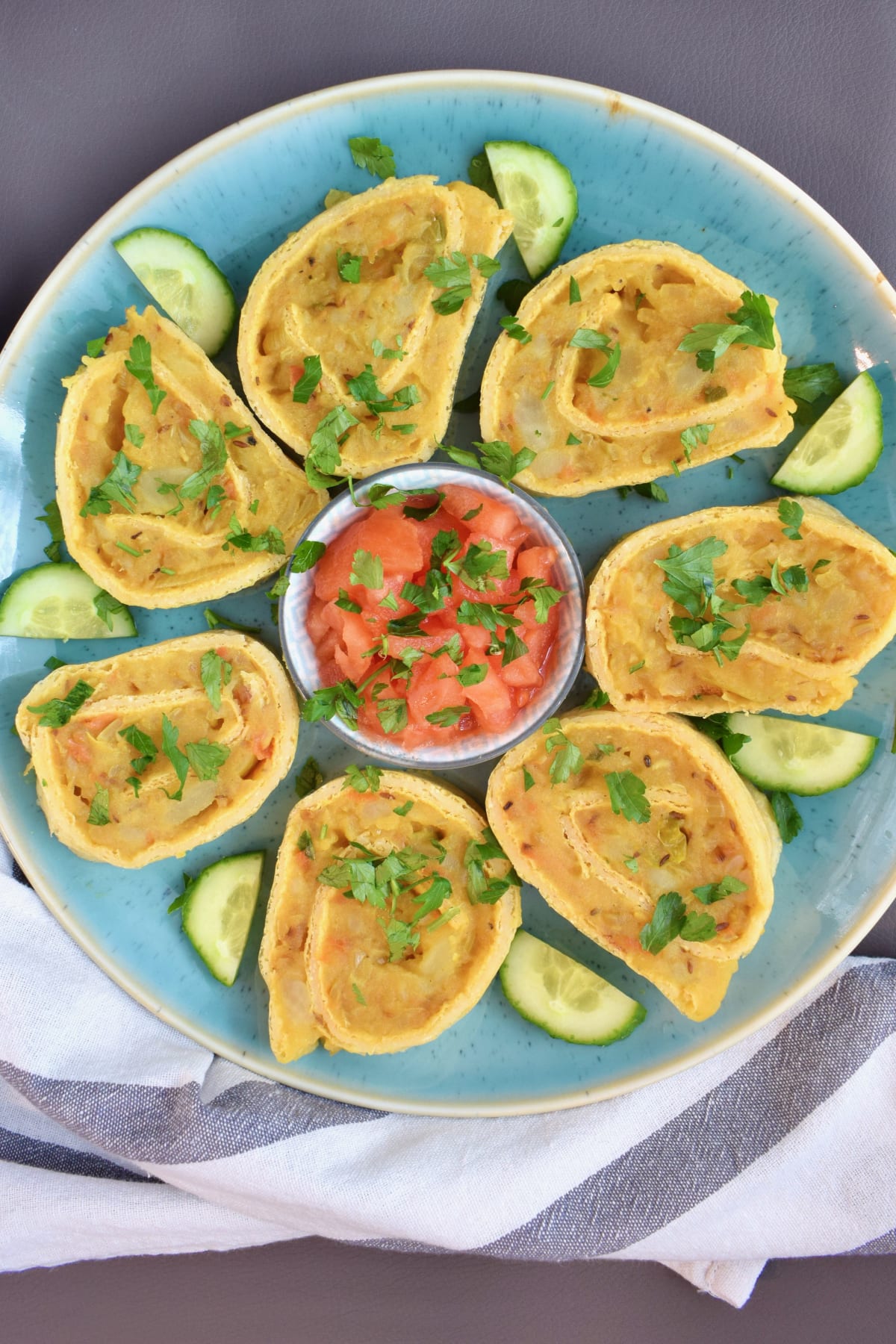 These delicious stuffed red lentil rolls are a delightful combination of flavors and textures. The lentil batter provides a nutritious and protein-rich base, while the flavorful potato filling adds a comforting element. Whether you enjoy them as a main dish or a tasty appetizer, these rolls are sure to impress your taste buds. Don't hesitate to get creative with the filling by adding herbs or spices of your choice. Try making these stuffed red lentil rolls for your next gathering or simply to treat yourself to a unique and tasty culinary experience. Enjoy the combination of lentils, potatoes, and aromatic spices all rolled into one delightful bite. To prevent the red lentil sponge from sticking to the baking paper, it's important to ensure an adequate amount of grease is applied. If available, using a silicone baking mat is even better. However, in case the sponge does stick, I have a helpful tip for you. Once the sponge is out of the oven, if you notice it sticking to the paper, I recommend covering it with a towel while it's still warm. Let the red lentil sponge sit like this for about 1 hour until it cools completely. The heat will create condensation, which will help loosen the sponge from the paper. Once it has cooled, you can gently peel off the paper without any trouble. This trick will ensure that your red lentil sponge stays intact and makes the rolling process much easier. So, don't worry if it sticks initially; just follow this simple method and you'll have a perfectly rolled and delicious final result. Remember to allow the sponge to cool completely before removing the paper, as this will give it enough time to set and maintain its shape. Patience is key, and the end result will be worth it. Now you can confidently prepare your red lentil roll, knowing that even if it sticks a little, you have a reliable technique to ensure a successful outcome. Enjoy the process of creating this flavorful dish and savor every bite of the finished product.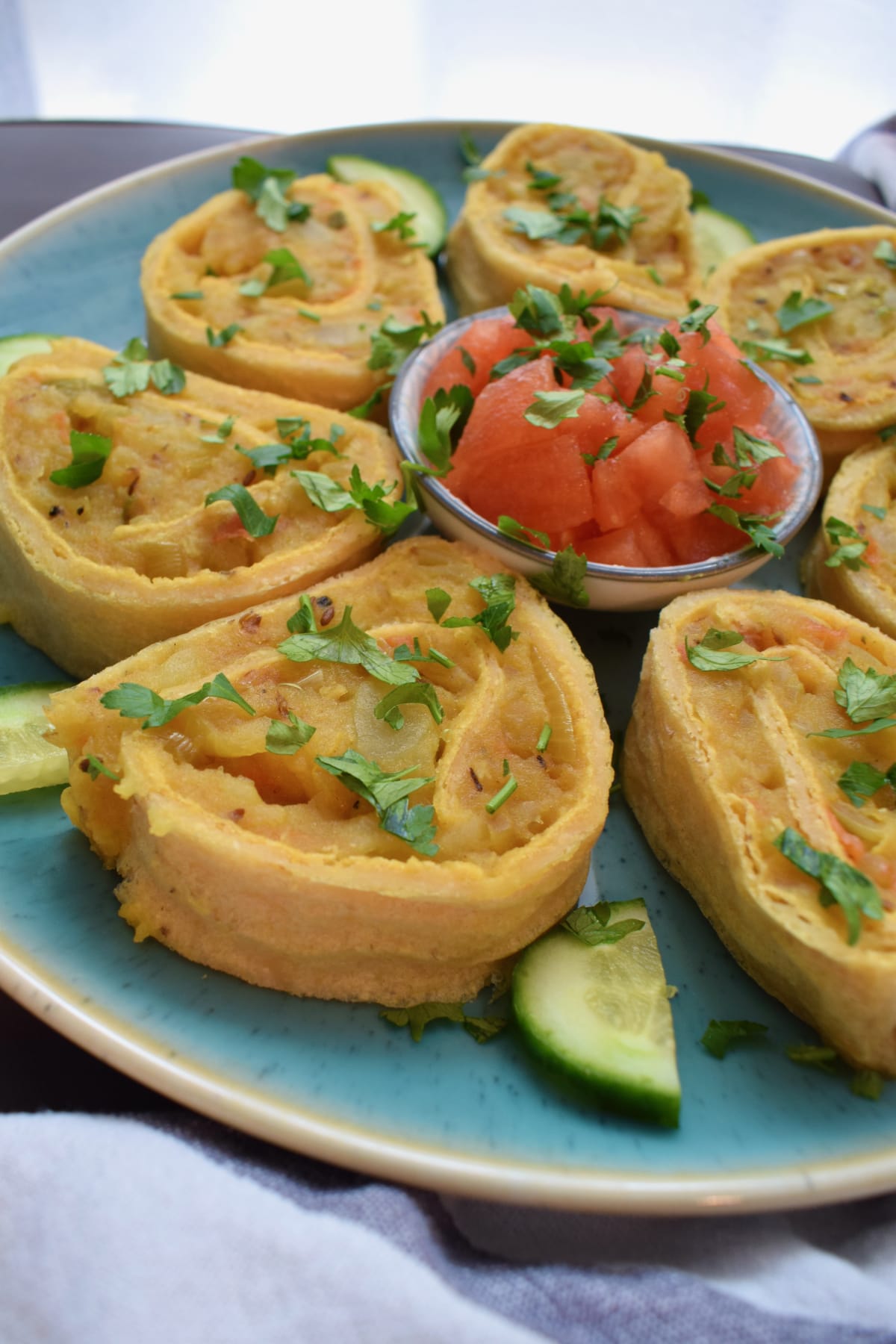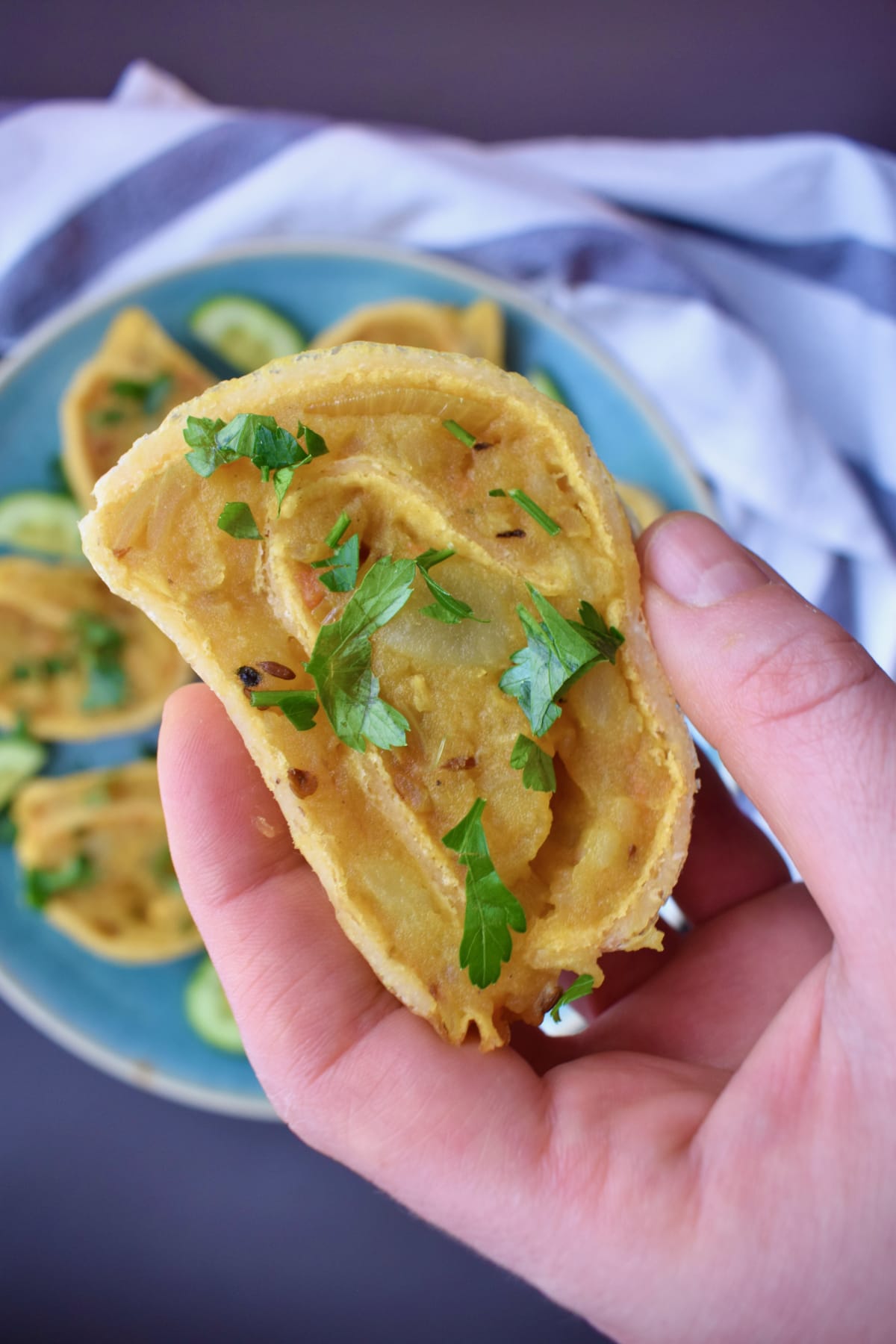 1 cup red lentil (masoor dal)

2-3 potatoes

2 tbsp olive oil

1 cilli peper

1 onion

2 garlic cloves

1 tomato

1 tbsp cumin seeds

1 tsp turmeric

salt

pepper
1
For the batter, soak the red lentil overnight. The next day, blend the red lentils with 3 cups of water and a pinch of salt until smooth.
2
Grease a baking paper-lined oven tray. Pour the lentil puree onto the paper and spread it evenly. Bake in the oven at 250 C degrees.
3
For the filling, start by peeling the potatoes and cutting them into cubes. Boil them in salted water until tender. Mash the potatoes with a fork until smooth
4
In a pot on the stove over medium heat, heat the olive oil. Lightly fry the cumin seeds and chili pepper.
5
Add the onions and turmeric, frying until golden. Then add the garlic and fry for 30 seconds.
6
Stir in the tomatoes and cook until they become soft. Season with black pepper and add the fried vegetables to the mashed potatoes. Mix well to combine.
7
Spread the potato mixture over the red lentil batter, and roll it tightly.