Vegetarian Chicken Butter Masala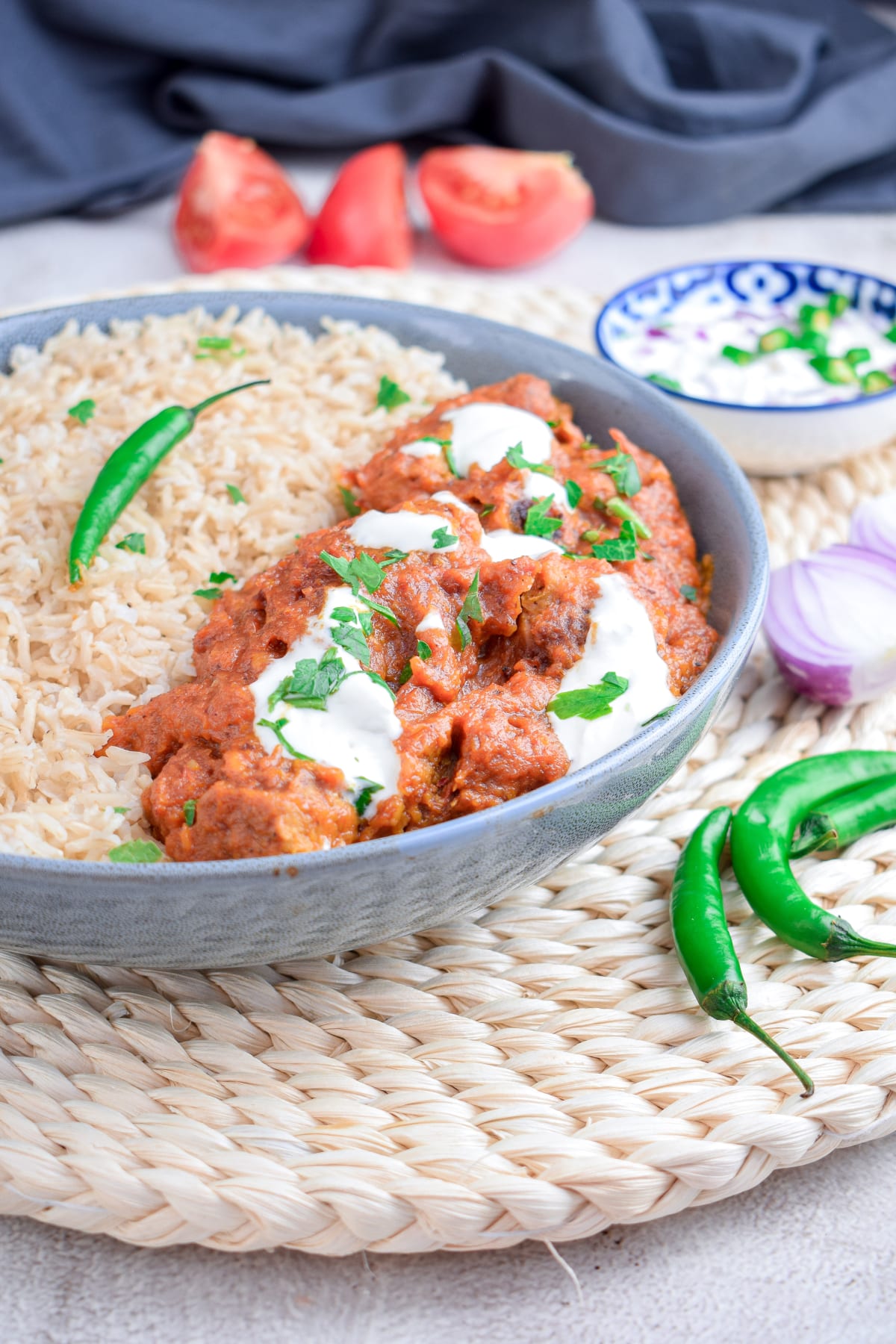 I would like to dedicate an entire post to this vegetarian chicken butter masala in Indian style. It becomes phenomenal! You won't stop eating this until the pan is empty, I guarantee. This is my favorite recipe for a vegetarian dish with textured pea protein which is soy free, high in protein and guilt free.
1 cup textured pea protein Nuggets

juice of 1/4 lemon

2 tsp fresh ginger, crushed

6 cloves of garlic

2 tsp garam masala

1 tsp red chili powder

1 1/2 tsp salt

4 tbsp. butter

4 tbsp. olive oil

1 large onion, chopped

3 tomatoes, chopped

1 tsp cumin powder

1/2 tsp coriander powder

30g raw cashews

2 tbsp Greek yogurt
1
Soak the textured protein Nuggets in hot water for about 20-30 minutes. The water level should cover them completely.
2
Make ginger and garlic paste. Mix the garlic, ginger and pinch of salt. Crush them using a crusher until a smooth paste forms.
3
Marinate the nuggets in greek yoghurt, lemon juice, 1 tbsp ginger and garlic paste, 1 tsp garam masala, 1/2 tsp red chilli powder, 1/2 tsp salt for 30 minutes.
4
Heat a frying pan with 1 tbsp butter and 2 tbsp olive oil. Fry the marinated nuggets until golden brown. Set them aside.
5
For the masala, heat the 2 tbsp butter and 2 tbsp olive oil in the pan. Fry the onions until golden brown. Add the rest of the garlic and ginger paste. Fry for 30 seconds.
6
Add tomatoes, 1 tsp salt, 1/2 tsp red chilli powder, cumin, coriander, 1 tsp garam masala and 1/4 cup of water. If it sticks to the pan add more water. Simmer over medium heat until tomatoes are cooked through. Add the cashews and cook for another 5 minutes.
7
To make masala add the veggies to a blending machine and blend until smooth. Add water if it is too thick.
8
In a frying pan add 1 tbsp butter, masala and nuggets. Simmer on low heat for about 10 minutes. Serve with Greek yogurt or sour cream. Sprinkle with parsley.
Tip:
Marinating the nuggets is very important step. I do not recommend to skip it. Textured protein nuggets should absorb all the flavours from the spices during the time for marinating.
Note:
In India Butter Chicken Masala is served with rice or Butter Naan.