Vegetarian Stuffed Eggplants with Minced Meat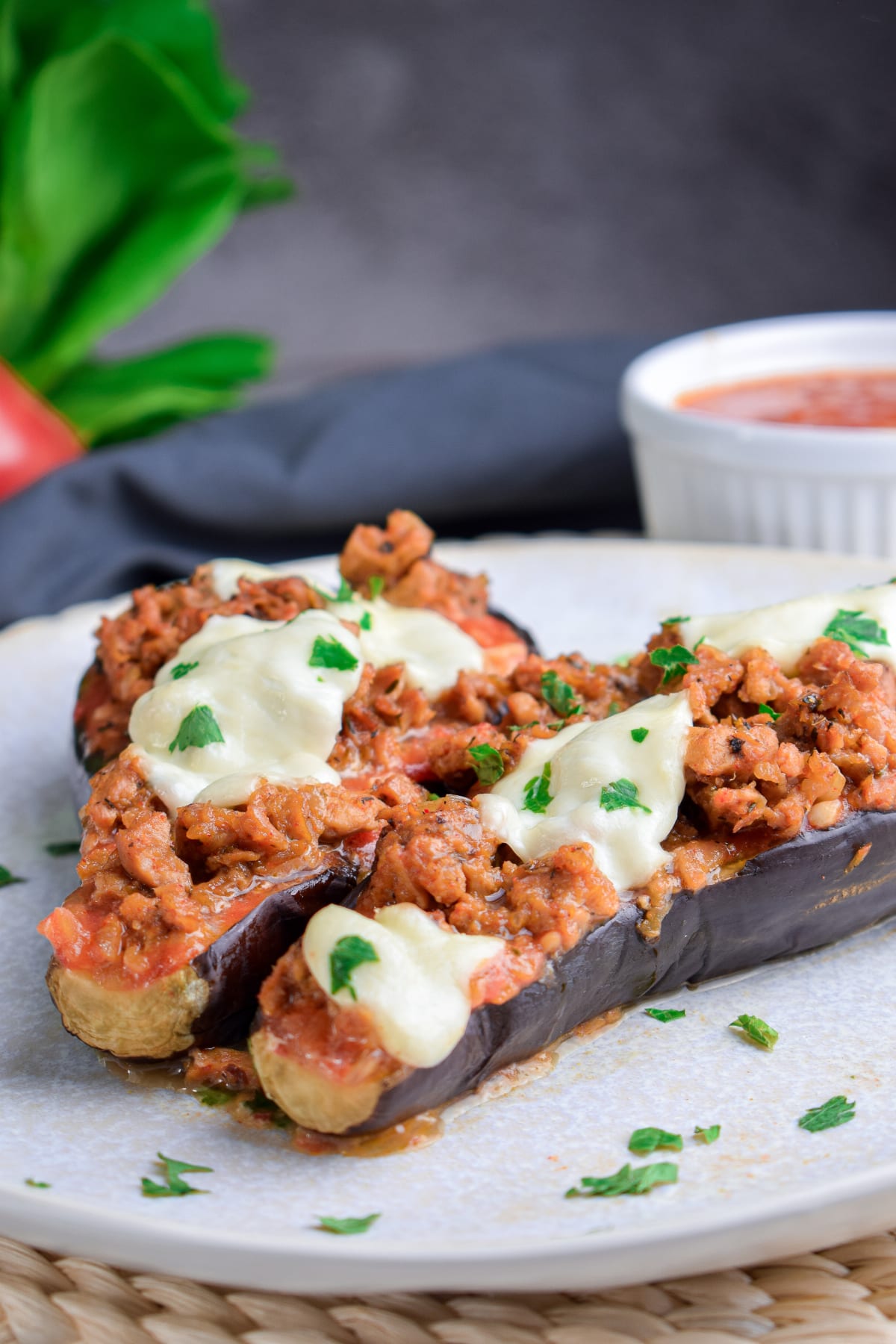 I am excited to show you this recipe because it is one of my favorites with textured protein but at the same time it is for vegetarians and vegans. It's soy free, high in protein and guilt free.
2 eggplants

1 cup textured pea protein

4-5 tomatoes

4 tbsp. olive oil

4 cloves of garlic, crushed

1 large onion, chopped

1 tsp cumin powder

salt

pepper

1 tsp dried oregano

125g mozzarella cheese

1 tbsp parsley, chopped
1
Soak the textured protein in hot water for about 20-30 minutes. The water level should cover it completely.
2
Heat 3 tbsp olive oil in the pan. Fry the onions. Add 1 clove of crushed garlic and fry for 30 seconds.
3
Add the textured protein, dried oregano, salt, pepper and cumin. Leave on low to medium heat for about 10-15 minutes. Stir often. If it sticks to the pan, add a little water.
Note:
Textured protein should absorb the flavours from all spices.
4
Bake the eggplants whole and covered with aluminium foil at 250 C (480 F) degrees.
5
Peel the tomatoes skin or put them for 1-2 minutes in boiling water. Then remove the skin. Blend the tomatoes.
6
Heat 1 tbsp olive oil in a saucepan and fry 3 cloves of crushed garlic for 30 seconds. Add the tomato puree and cook over low to medium heat. Add salt and pepper. Cook until thickened.
7
Assemble. Cut the eggplants in half. Cover them with tomato puree. Add the textured protein. Add a few slices of mozzarella. Bake at the oven for 5-10 minutes or until the cheese melts. Sprinkle with parsley and serve while still warm.
Tip:
Of course you can use tomato puree or canned diced tomatoes, but they are full of sugar and preservatives. I prefer to use fresh products. The taste is incomparable.
Roma type tomatoes have less water content and the puree will thicken faster.
There is a tomato peeler in shops. You can save cooking time.