Yellow Split Pea Dal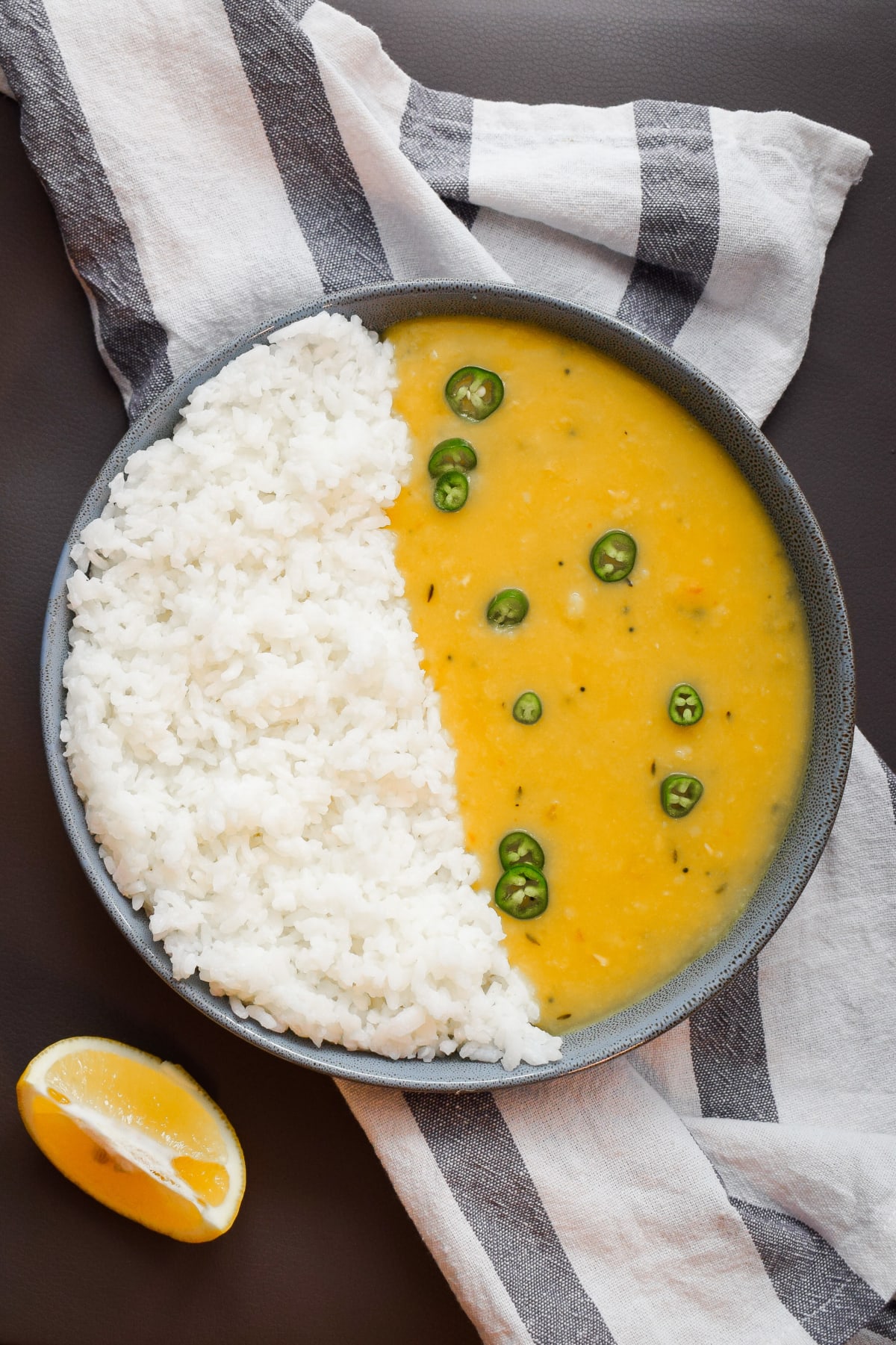 Yellow split pea dal is a delicious and nutritious dish that's perfect for vegetarians, vegans, and anyone who wants to eat healthy and balanced meals. In this blog post, I'm excited to share with you my quick and easy recipe for making this flavorful yellow split pea dal. To start, you will need peeled and halved yellow peas, which can be found at your local grocery store. I personally recommend the Kaufland brand, which I used in this recipe. If you're unable to find this brand, simply look for yellow peas that have been peeled and halved. Once you have your peas, rinse them thoroughly in cold water and set them aside. Next, prepare your vegetables. You will need onions, garlic, spices, and chili peppers (if you want to add some spice to your dish). Chop these ingredients and set them aside. In a large pot, heat up some vegetable oil and sauté the onions until they become soft and translucent. Then, add the garlic and chili peppers (if using) and cook for another minute. Now, it's time to add the yellow peas to the pot. Mix well and add enough water to cover the peas. Add salt and black pepper to taste, cover the pot, and let it simmer for about 30-40 minutes or until the peas are tender. To add some extra flavor and nutrients to your dish, you can also add some diced carrots and potatoes. Simply peel and chop these vegetables and add them to the pot with the yellow peas. Once the yellow split pea dal is done, serve it hot with some fresh bread or rice on the side. And if you're feeling adventurous, you can also add some toppings like fresh herbs or croutons. This yellow split pea dal recipe is perfect for those who want to enjoy a flavorful and healthy meal without spending hours in the kitchen. It's versatile, easy to make, and suitable for various dietary preferences. Give it a try and let me know how you like it!
2 cups yellow split pea dal

2 tbsp. olive oil

1 onion

4 cloves of garlic

1 tomato

4 dried chili peppers

1 tsp. turmeric

1 tsp. cumin seeds

1 tsp. brown mustard seeds

salt to taste
1
Before you start cooking, soak the yellow peas in water overnight to boil it faster.
2
Heat the olive oil, mustard seeds, cumin and chilies in a pot on the stove over medium heat.
3
Add the onion and fry until translucent.
4
Crush the garlic until paste is obtained.
5
The garlic paste is added to the pan and fried for 30 seconds.
6
Add the diced tomatoes and turmeric.
7
Add the yellow peas, about 2-3 cups of water and salt to taste. Add more water from time to time if it evaporates.
8
When the yellow spit pea dal is completely cooked, remove it from the heat and garnish with rice.
Note:
I always cook it in a pressure cooker and it cooks for 20-25 minutes.
Tip:
Cook it in pressure cooker for 7 whistles until it's mushy.